Uncategorized
Cop viral video in NHL fan brawl between Coyotes and Bruins
A cop goes viral after his bizarre reaction to a wild all-out fight caught on camera.
A terrifying scene took place between American fans during a weekend NHL game between the Izona Coyotes and the Boston Bruins.
Fans are used to seeing fights in the NHL, but they usually take place on the ice.
According to The New York Post, a fight broke out in the stands at Tempe's Mullett Arena, which became even more dramatic when The Black Keys hit "Howlin' for You" was played in the background.
The video, which has over 4 million views on Twitter, shows several fans throwing a flurry of punches, with a Coyotes fan throwing a drink at an approaching Bruins fan just five seconds later.
Unfortunately, the same Coyotes fan seemed to punch and stun the woman in the Rob Gronkowski T-shirt, who thankfully got up quickly afterwards.
One fan posted a video after the fight in which he claims to be holding a knocked-out tooth of one of the participants.
Fans' attention on social media quickly turned to the efforts of the police officer in the foreground – and his complete indifference to the chaos going on around him.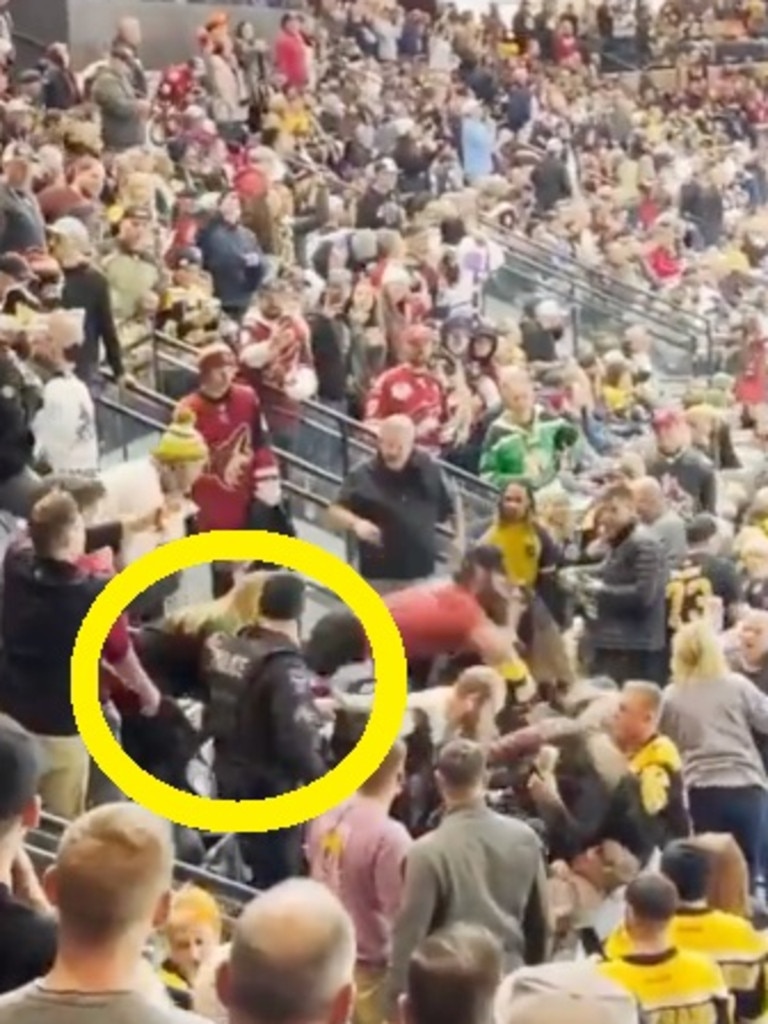 It turned into a general brawl. Photo: Twitter, @PeteBlackburn.Source: Twitter
The video's author, Twitter user Pete Blackburn, captioned the video: "Insane mass brawl at the Coyotes-Bruins game last night. Great job by the cop in the foreground."
One Twitter user wrote: "One cop came in and settled the case while Waldo stood and watched."
This caused a lot of jokes on social networks.
Shortly thereafter, several police officers arrived to break up the melee in an attempt to minimize the damage already done.
According to a KTAR News report, one person was arrested for aggravated assault as a result of the incident. The same report indicates that five more people were prosecuted for hooliganism. Names associated with this meeting have not yet been released.
The Coyotes will play at the 5,000-seat Arizona State Arena for three years until they get a new NHL arena. Arizona won the game 4-3.